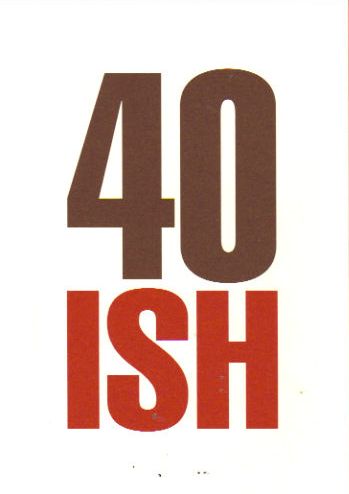 Another birthday?
Last year I wrote a blog post about turning another year older.   As I slowly approach the end of another decade in my life I wanted to resurrect the thoughts I had last year.
I wanted to know, when are we considered old?  Not to our children, but to everyone else around us?  My wife says it depends on the age of the people we hang around with.  If that is the case, I should be good.  Living in Bermuda I consider myself lucky and blessed to have some great friends….who range in age from their mid 20's to mid 60's.  Also, as I get older…I meet new friends from around the world who have become an important part of my life.  I guess age is just a number.
Today I turn 48.  At least I think I do as I lost track after my 40th Birthday (thanks Maria & Dave Bootle for thinking that drinking martinis through a straw all night would be a great idea!). I moved out of the house I grew up in at age 19.  I got married at age 29, moved to Bermuda at 39…and now I am quickly approaching 49 (or that number after 49).   Ten years from 49 will be the age my mother was when she lost her battle to cancer.  Life can be short.  I am not sure what the next big change in my life will be…but as long as I am alive to see it and share the experiences with my family and friends, that is all that matters.
Since bringing the Cancer Fundraiser, Relay For Life of Bermuda, to Bermuda…I have changed the way I look at my age and life.  I have started living like I was on vacation at the same time spreading social good by giving birth to The Plan [b] Project.  I am grateful for the professional opportunities my employer has given this ex demolition man from California.  I have seen too many people lose their lives too early, unhappy.  Leaving family and friends behind.   Not doing the things that I am sure they had on their Bucket List or Life List.  Not being able to watch their kids grow up and raise a family.  Not traveling to places for the first time.  Not having a passport where they have run out of room for additional stamps.  I could go on and on.   So in saying that…bring on the birthdays.
I am completely grateful and blessed to be another year older.  As a matter of fact, I embrace it.
Today….I will embrace where I am in my life, feel grateful for what I have and where I live and know that with each year…life will continue to get better.  Today I get to wake up on an island in the middle of the Atlantic Ocean and see, smell and hear the ocean…from my front door.  I get to watch the Bermuda Longtails in front of our home chirping ( the way only long tails do) to each other.  I get to see my boys grow and mature.  I get to see one of them having their first real crush on a girl…and the other sitting alone teaching himself to play the guitar!  I get to watch my wife follow a new passion in her life, take new risks by doing something for herself and at the same time contributing to her family in a big way.
I know that if I squint….I can see that summer is fast approaching.  For those of you that have visited SpencerIsland, you know that I am talking about.  I am truly grateful for this life and I take none of it for granted.
Happy 48th birthday to me…
I leave you with a quote from Albert Einstein, "Do not regret growing older as it is a privilege denied to many."