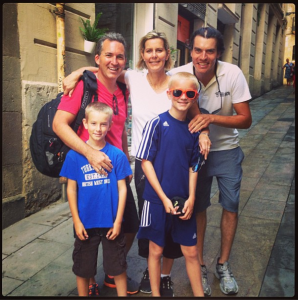 Boy…who ever invented the siesta should have received the Nobel Peace prize!  After waking up to a fresh Cafe con Leche (and Tea for Becky) we shot off to the center of the Gothic District to meet with our tour guide Bernat who took us on our Segway tour of Barcelona.  The kids had a blast as they love Segways…  Becky, well, she had to get into her groove…after a near collision into Bernat!  No casualties!  After trekking through eh City…we headed to the Beach where we realized some "older" locals like to hangout (or walk around) in the nude.  When Ryan realized what he was seeing…he says to Becky, "…Ewwwwww…"  Classic Ryan response.  We actually learned a lot from the tour (like the fact that 75% of the beach was man made and the sand was imported from Sahara Desert..
We got back to the heart of Gothic did a little walking around and the a short siesta!  Wow…a little R&R in the middle of a day really works.
After the siesta we decided to shoot the kids over to the holy grail of attractions (not a million year old cathedrial or a must see museum) but Camp Nou, the FC Barcelona stadium.  Here the boys got to see the history of the team…get personalized jerseys and meet to players during practice.  (Next week Barca plays Real Madrid…sadly while we are on our cruise…so we cant make it.)  They also got to hold the Trophy from this last year!  A full day…to say the least…
Friday?  Who knows…what we will do!