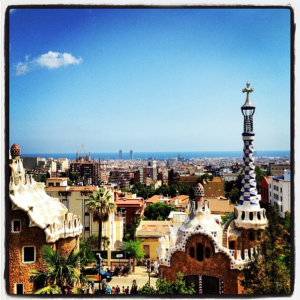 Who says the days can't get better…they sure do in Barcelona.  Last night we made an attempt to purchase tickets for Sagrada Familia (as this was a suggestion by our Segway tourguide…to "always" purchase tickets or there may be a line…)  Purchasing tickets through an ATM in Spanish (or Catalan) is a bit tough…
At any rate…we were able to obtain our tickets…so first thing Friday we jumped in a taxi and headed over to Sagrada Familia.  WOW…  There were 1,000,000 people outside and around the facility..  Oh..and WOW..the Cathedral was breathtaking.   Even with all the cranes and construction crews…it was amazing.
We were directed to the back of the property…(as I was waving my tickets to a young lady in the front…guarding the gates..) and when we noticed a line that went around the entire block!  Gulp…  But..as we got to the back entrance…I again waved our tickets, the person looked at them…and then said, please come in.  No line!  Thank you to our Segway guide for suggesting we purchase our tickets.  The sand part was, we did not get them for the towers (may have to do this next week when we come back 🙂 )….
You could spend 1/2 the day (or all day of Becky had her choice) walking this amazing structure.  It is amazing to me that construction was started so long ago..and it still will not be completed for another +/- 50 years.  I won't get into the entire history here…but something you MUST see…  Becky still has tears in her eyes..
After he headed straight up to Park Guell…(another Gaudi creation)..  Actually..a portion of Park Guell..was built by Gaudi to see if it would work at the church.  This too was another amazing creation…  (Suggestion: visit Park Guell the first thing in the morning when it opens if you want to take photos…)  Becky and Ryan visited Gaudi's home…and we all were amazed at the different shapes and colors…that Gaudi put into this park.  We will come back!
We ended the day enjoying Tapas and Wine in front of another HUGE cathedral..watching street performers…and watching the kids play with the little 2 euro light thingy…that Dylan bought with the 5 euros he found earlier that day..  It was a great night.  Oh…we actually ended the night later…after some gelato (which seems to be the theme here 🙂 )…