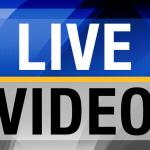 Hey family and friends overseas…if power remains to the webcams, there are a few webcams (mostly in DockYard dawn de street road from us).  Use the below link.
Summary as of Fri Oct 17 – 6.06am:
Bermuda is under a Hurricane Warning

Friday 6am forecasts: BWS said closest approach forecast to be within 25 nm of [or directly over] the island at 7pm this evening.

 NHC still has it as a Category 4, 

but they do have the max sustained winds down from yesterday's high of 145 mph to 130 mph.

Gonzalo is 240 miles SSW of us, moving at 15 mph.

 

Hurricane Gonzalo expected to bring 27 hours of tropical storm force winds

Gonzalo expected to pass us as a Category 3, same as 

Fabian was

Airport closed, buses & ferries suspended, all schools closed

Crews from 

Barbados, the British Virgin Islands and Dominica ready to assist BELCO

Resources pre-positioned at the east end,

 

BELCO, 

Regiment, Fire, Police, Lamb Foggo

More than 200 Regiment soldiers on standby

Shelter a

vailable from 3pm

 Thursday, at CedarBridge

Emergency Broadcast Station, 100.1FM will be on through storm

UK Navy ship heading towards us to standby in case we need assistance

Causeway will close at 10:00 a.

m.

 Friday
The Weather Channel also has someone in Bermuda now (no…not Jim Cantore) so full coverage will be on that Channel.  If our telephone lines do not go out, we have our landline which is 441-238-5236.  As always, we will do our best to update everyone as long as we have power and internet…which we may loose later tonight!