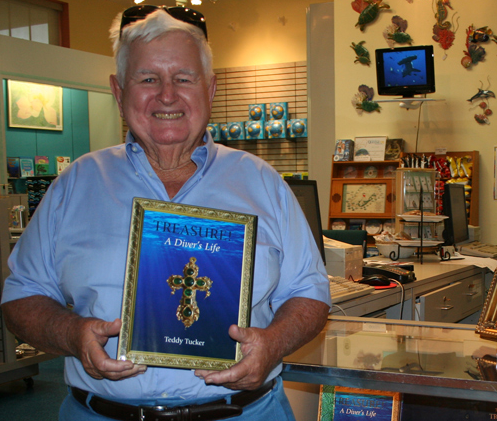 It is a sad day on SpencerIsland as the legendary shipwreck and treasure diver Teddy Tucker passed away yesterday at the age of 89.
In December we moved next to Mr. Tucker, whose house…was just across the harbor from ours.  There were a few instances when I would paddle board near his home, and Mr. Tuckers (and a few individuals) would be in Mr. Tucker's dive boat…, I would always get a friendly…good afternoon or good eventing..   Ryan actually completed a project on the famous Tucker Cross…and learned a lot about Mr. Tucker.
The following is from the local paper, Bermuda Sun.
Mr Tucker famously found the treasure ship, the San Pedro, on which was the priceless gold and emerald Tucker Cross.
He was a founding member of the world famous Beebe Project in 1983 which has been instrumental in discovering new deep-sea animals with submersibles and underwater cameras. Along with Mendel Peterson of the Smithsonian Institution and others in the Department of Armed Forces, he developed the grid system for surveying ship wrecks. He also taught marine archaeology at the University of Maryland and co-founded the Bermuda Underwater Exploration Institute supplying much of the marine based exhibits.
Mr Tucker worked for various prestigious publications including National Geographic and Life magazines.
In 1991, he was presented the Distinguished Service Award by the Underwater Society of America and the Queen awarded him the Member of the Most Excellent Order of the British Empire Medal in 1994.
A spokeswoman from BUEI told the Bermuda Sun: "We are all very sad to hear of Teddy's passing he was a friend to many of us. BUEI would not exist if it wasn't for Teddy's inspiration and we send our deepest condolences to his family."